Dane County Sheriff Dave Mahoney awarded Yahara Materials with the "Sheriff's Citizen Award" in May for their support and partnership over the years.
The Dane County Bomb Squad relies on Yahara Materials and their pit in the Town of Vienna for disposals and for training exercises. "They have made themselves available 24-hours a day to members of our bomb squad so that they may conduct demolitions immediately upon locating potential explosive devices," remarked Sheriff Mahoney.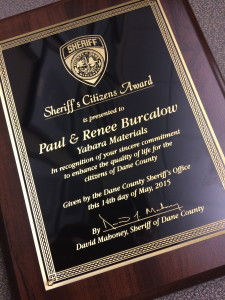 "In addition, when the bomb squad was recently attempting to put a new and much needed explosives (storage unit) into service Yahara Materials donated…the gravel needed to ensure the unit met state and federal compliance standards."
Yahara Materials is a family-owned aggregate quarry providing materials for streets, parking lots, roads, and the home-building industry.