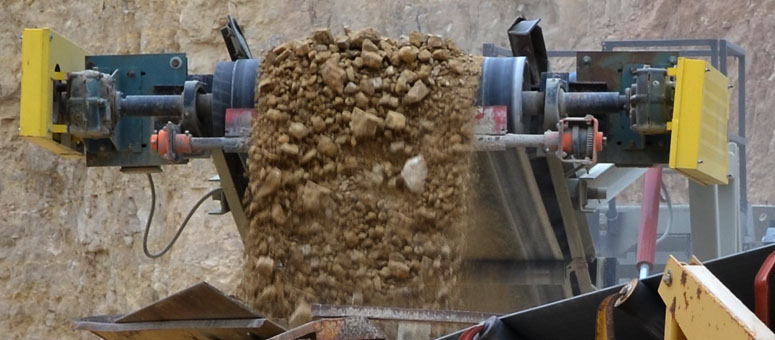 Yahara Materials provides custom crushing, washing, placement and installation of aggregate materials for streets, parking lots, interstate highways, airport runways – even bedding for farm animals.
Stone quarrying is a multistage process by which rock is extracted from the ground and crushed to produce aggregate, which is then screened into the sizes required for immediate use, or for further processing.
Primary crushing is usually done by a jaw crushing using a heavy metal plate which moves backwards and forwards against a fixed plate, which is kept in motion and given its crushing energy by a large flywheel.

The output from the crusher is conveyed to a screen house where large multiple deck screens sort the crushed stone into various aggregate sizes.
Some construction products, such as concrete, require aggregate to be clean and free of all debris. To produce this material, the crushed aggregate is conveyed through a plant that sprays water over the rock.

The water washes off the fine particles produced during crushing, as well as any silt that may have been present in the rock's natural state. The water that washes the aggregate is directed to and collected in a retention pond built inside the quarry. This retention pond serves as the water supply for the wash plant, ultimately creating an effective system that continuously recycles water.
After the aggregate is produced, dump trucks enter the quarry, load the necessary material, and haul it to their respective jobsites.

Yahara Materials has a number of dump trucks that haul products directly to jobsites, but the quarries are also open to customers who haul with their own dump trucks.
The installation of aggregate is the terminology used to describe the building of a road. After the aggregate is delivered to a jobsite via a dump truck, Yahara Materials crews will work to ensure the aggregate is properly installed in the road.

Using grading and rolling equipment, the Yahara crews will build the strong base layer upon which asphalt or concrete will be installed upon to construct the roads we use every day.
Aggregate is inspected using exhaustive specifications for various construction aggregate products, which, by their individual design, are suitable for specific construction purpose.

Testing granular soils and fine aggregates define levels or mixtures of desirable coarse particles, sand as well as undesirable clay or plastic fines and dust.